Sixty shots of stunning seasonal scenes to explore, investigate and touch, letting the soil run through your fingers. These are our Gardens: waiting for you to discover  thirteen years of secrets. Even the Mandria, in its nest of dense greenery, is willing to share. Like blocks of soil, these photographs fit together to form the puzzle that is the landscape of the Royal Venaria. A kaleidoscope of miniature worlds suspended between ancient memories and new adventures. So much to see, you might lose yourself: well, perhaps that's the idea?
---
zolla.16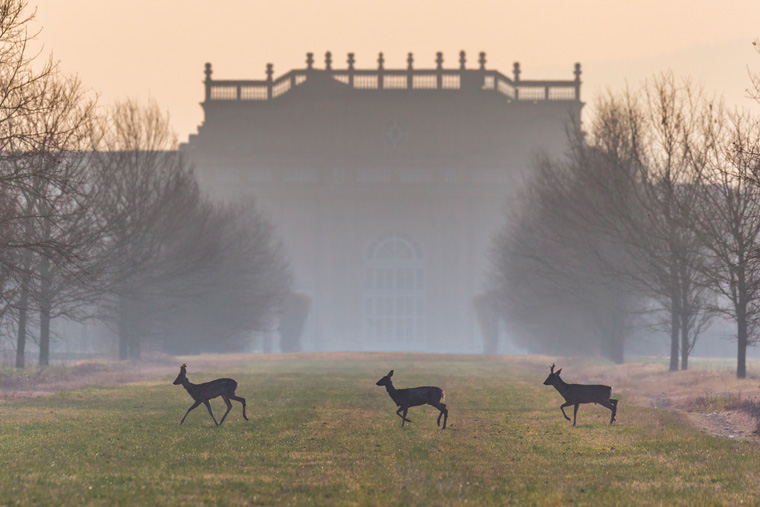 Springtime reawakens the Royal Venaria, as new shoots burst forth and roebucks graze here and there, brushing their new-grown horns against the rough-barked trees. A herd of deer at dawn – all too easy to spot during these strangely quiet months – is a beautiful sight, but for the gardener it poses a problem. The covering of young plants and the addition of a few thorny bushes might help: apparently they turn up their noses at lavender, meadowsweet, ortensia and Cornus sanguinea. Still, gardening is all about learning to get along together, and you can only fight if both sides have equal weapons.
---
zolla.17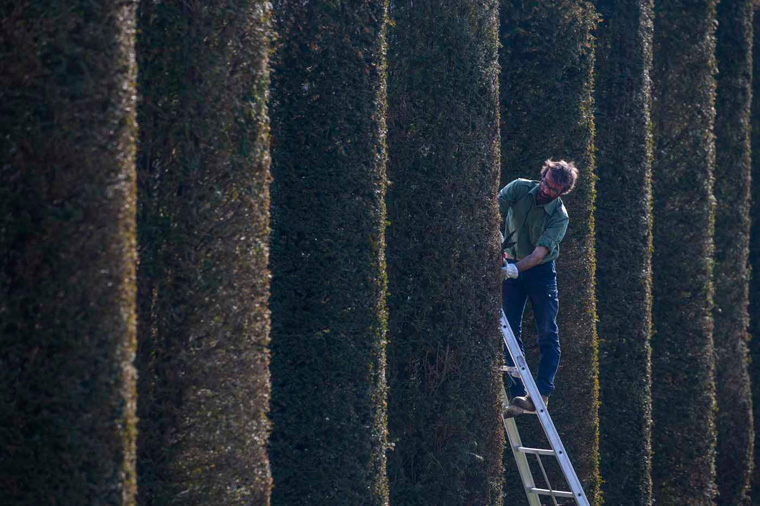 Gardeners perch precariously as they clip the boxwood topiary in the Garden of Flowers. These tall columns require two such climbing sessions every year, at the end of the winter and summer, and they are always trimmed by hand using well-sharpened shears. This variety already has a rather compact structure, and light but regular clipping will keep it in trim without producing too much growth. In their rigorous procession these large boxwood, similar yet never completely identical, dictate the calendar of works at the Venaria. The bi-annual clipping, almost a ritual, is a special event that marks the change of season.
.Taxus baccata "Fastigiata" (pdf)
---
zolla.18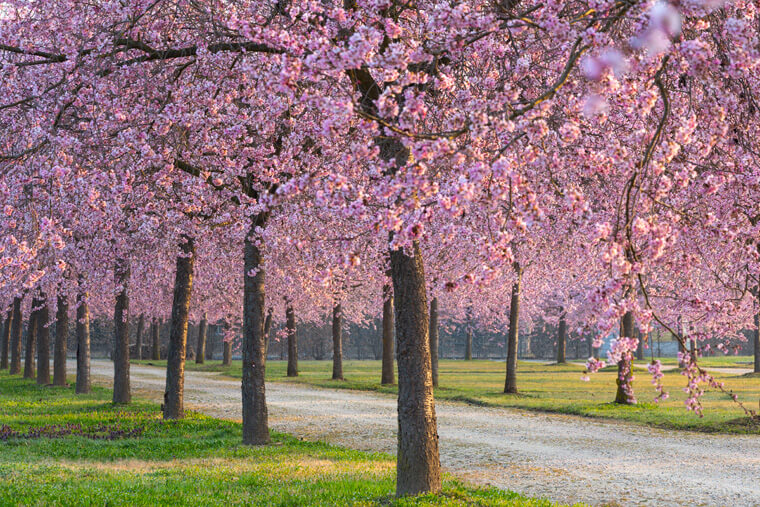 These low-hanging clouds of pink are more than four hundred cherry trees in blossom: the first bold signs of the coming season. Suspended from the dark-toned trunks, these ephemeral puffs of colour blur the edges of this rigorous layout, yet also enhance it. There is a huge range of Prunus ornamentali, but the trees growing at the Venaria are carefully selected, and are of the particularly strong, self-sufficient variety. The planting of so many of them served to add structure, more than any other botanical collection. When planning a garden, the storyline needs to be kept separate from the episodes. Time itself will weave them into one.
---
zolla.19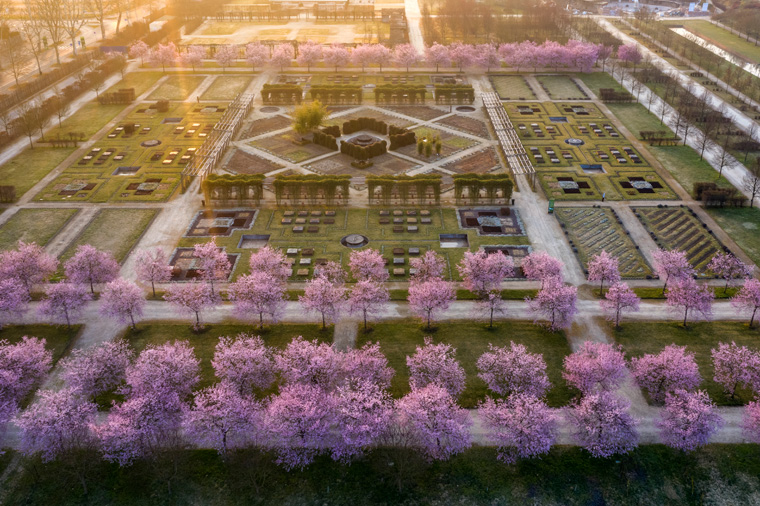 A vast chessboard of lawns and flowerbeds in a sequence of ever decreasing squares. Each garden has its own geography, the gardener's choices are guided by almost imperceptible details. Microscopic veins of water, a little sand, even tiny currents of air can make all the difference. The rigorous layout is interspersed with avenues, pergolas and water features, as in the best traditions of the Potager Royal. After the laborious post-winter clean-up, everything is now back in order: raked, renewed and ready to welcome the euphoric blossoms of Spring.
.Prunus subhirtella (pdf)
---
zolla.20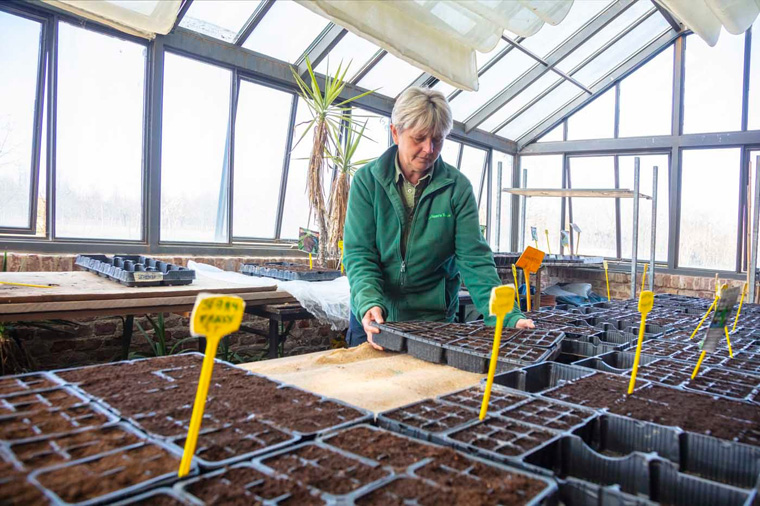 Tomatoes, spinach, various beans, lettuce, celery, chard and peas: things get very busy in the greenhouse, in early March. Just a little dusting of soil while waiting for the shoots to emerge, then the baby plants will be moved straight outdoors. This is the wonderful thing about a kitchen garden. Each year, those splendid ruffles of leaves, flowers and fruits burst forth again from nothing, always in different combinations. Although it might look random, nothing is left to chance. Precise tactics, strict calendars and constant monitoring is the name of the game, until the cold days return.
---
zolla.21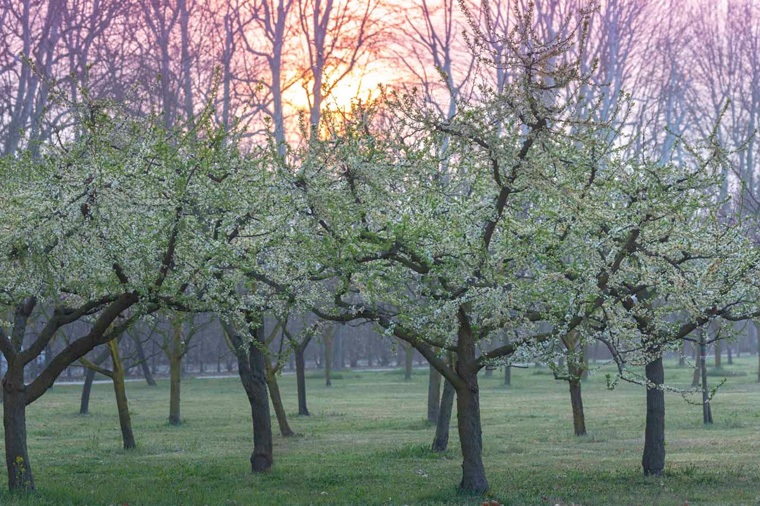 Intricate choreographies in the light of dawn. The plum trees stretch their thickly-flowered, well-pruned branches, as if in a dance. These are "Ramasin" trees: an ancient species, almost unknown elsewhere in Italy, it is said to have been brought to Piedmont by the Saracens in the early Middle Ages. The small collection at La Venaria includes species particular to our local landscape, which are now uncommon elsewhere. But alongside figs, mulberries, medlars and fragolino grapes, they might become the last outpost of the modern orchard, planted with disease-free, drought-resistant trees. Try it to believe it.
.Prunus domestica subsp. insititia "Ramasin di Pagno" (pdf)
---
zolla.22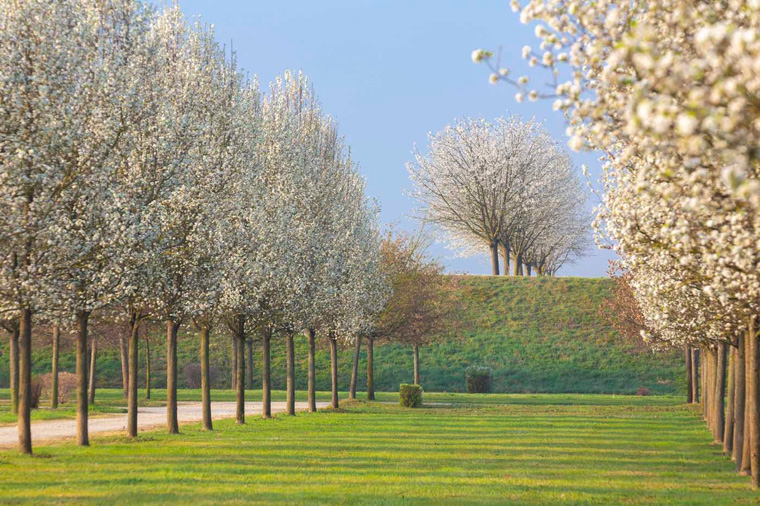 Looking towards the top of the gardens, we see lines of blossoming pear trees embracing the orchards at La Venaria. This spectacle is repeated in autumn time, when the colours are even bolder and the fiery foliage clearly illustrates the many virtues of this species. When it comes to self-management, this tree is in a class of its own. Its strong roots are resistant to drought, and it needs no unnecessary trimming or pruning. By nature, it forms a pyramid shape as it grows, unlike the soft contours of the cherry trees in the background. The only regret is that its tiny fruits are rather bland. At least for us. The flocks of birds are rather more interested.
.Pyrus calleryana "Chanticleer" (pdf)
.Prunus serrulata (pdf)
---
zolla.23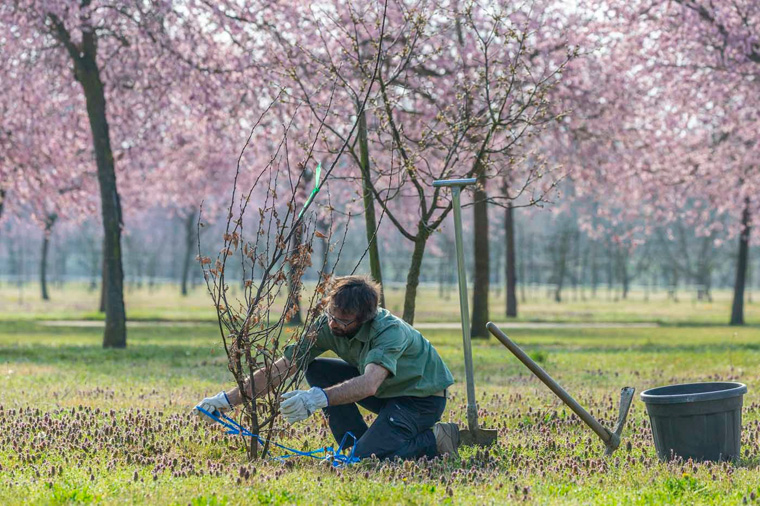 The dry spells of recent years have been harmful, even in winter: although often mild, there have been victims of frost. The hornbeams in the hedges and palisades that didn't make it are replaced in early spring. Technically, this is called "reintegration planting". A gentle pruning immediately after bedding down, then a second one towards the end of summer, makes sure that these trees remain compact as they grow. Generous watering and a fairly thin layer of mulch will also help, early on. After all, a few casualties along the way are to be expected. A garden is life, with its inevitable cycle of loss and new arrivals.
.Carpinus betulus "Pyramidalis" (pdf)
---
zolla.24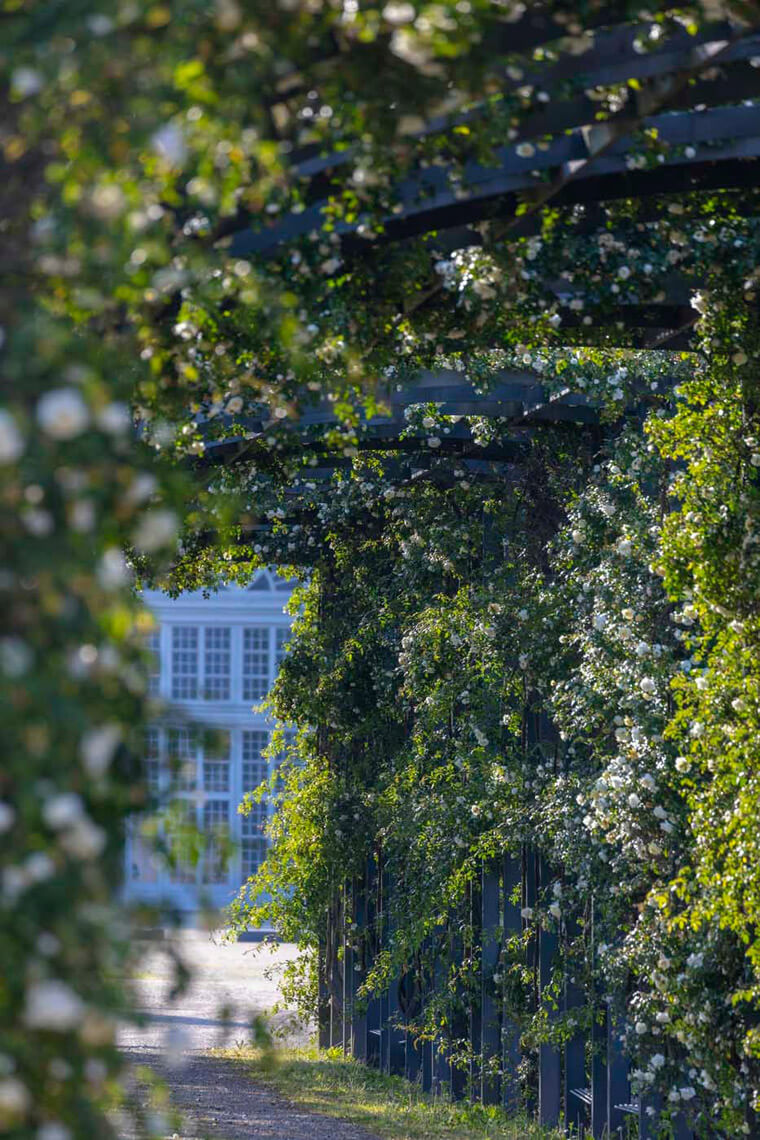 The only "gatherings" we like are made of roses. In the English Garden, the visual impact is stunning. Hundreds of Alberic Barbier climb exuberantly over the pergolas, their creased flowers winking brightly amid the dark, glossy foliage. Semi-evergreen and resistant to mildew, this variety is non-reflowering but extremely generous. At ease even in north-facing gardens, it is a rose you can always count on. More so than the nearby "Marie Pavie", which grows in small, rather sparse rosettes. Apart from our desires, every garden clearly suggests what we should favour.
.Rosa "Alberic Barbier" (pdf)
.Rosa "Marie Pavie" (pdf)
---
zolla.25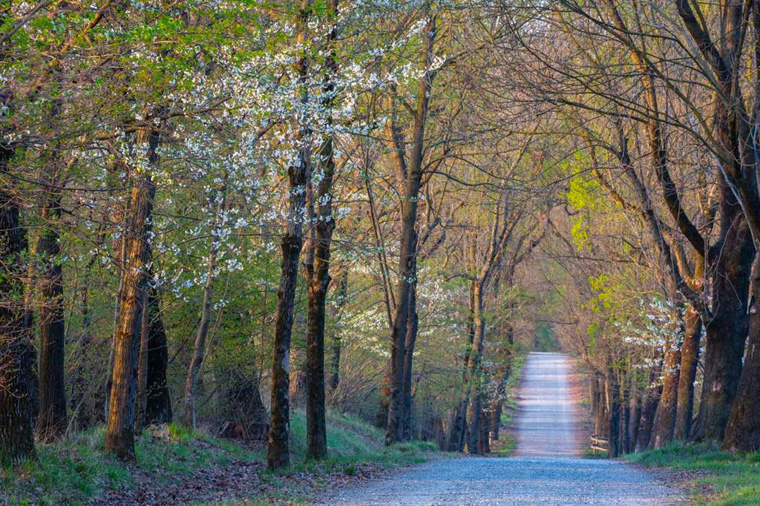 A road unwinds through the tangled woodland at La Mandria. In spring, the wild cherries blossom, and the damper, moister banks are resplendent with anemone and wild garlic. But the real stars of the show are the new green shoots on the oaks, hornbeams, field maples, hazelnuts and a few surviving elms: surely the most beautiful awakening. The branches arch over to form a vault. If these trees are watched carefully, trimmed well and not overstressed by continuous pruning, they will live well with the passers-by. An important lesson for those who stubbornly insist on humiliating them.
.Prunus avium (pdf)
.Quercus robur (pdf)
.Corylus avellana (pdf)
---
zolla.26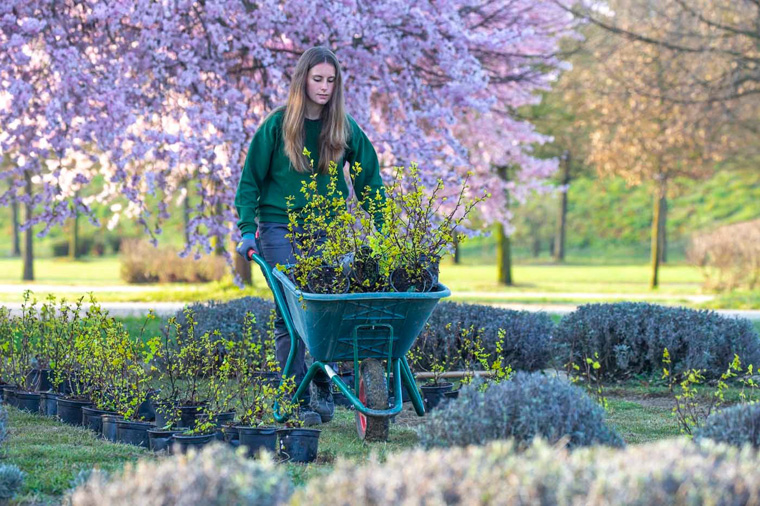 The pre-summer planting is underway. The Gardens are a huge work in progress, and each year they are transformed a little more. This is the exciting challenge posed by a place that is being rediscovered, and in part is still being reinvented. The borders of lavender alternate with orderly beds of thistles, sage and reedgrass arranged in lawn stripes. Soon there will be a quartet, as a fourth species with chartreuse-coloured foliage, flaking bark and tiny white flowers, which are popular with bees. The palette is decidedly bright and cheerful, reflecting the exuberance of the neighbouring vegetable beds.
.Physocarpus opulifolius "Nugget" (pdf)
---
zolla.27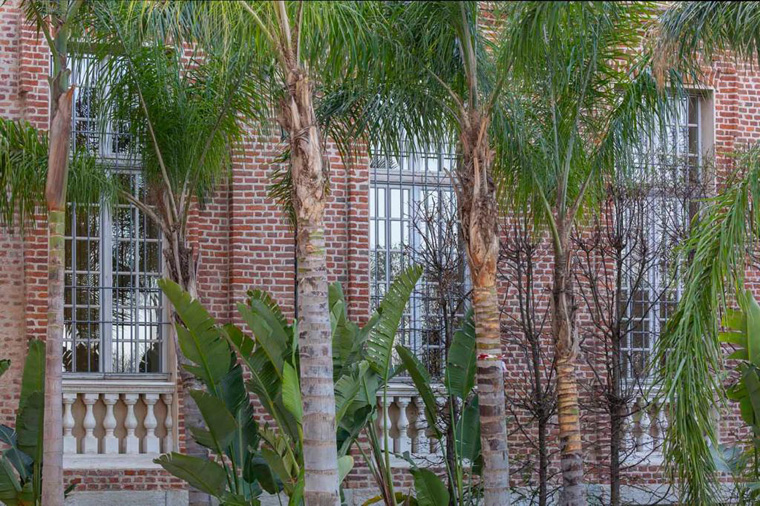 A tropical atmosphere at La Venaria: the large-leaved Bird of Paradise plants and the feathery fronds of these regal palm trees look as if they have come straight out of a Rousseau painting. After their arrival just a few months ago, they were moved to large pots, and will decorate the well-heated interior of the Orangery, just as they used to in days gone by. Encouraged by the climate change, they have replaced the olives and oleanders, although their evergreen foliage requires an indoor life without constant to-ing and fro-ing inside and outside the greenhouse. After all, under these grey northern skies, a little exotic folly helps to lift the mood.
.Strelitzia alba (pdf)
.Arecastrum romanzoffianum (pdf)
---
zolla.28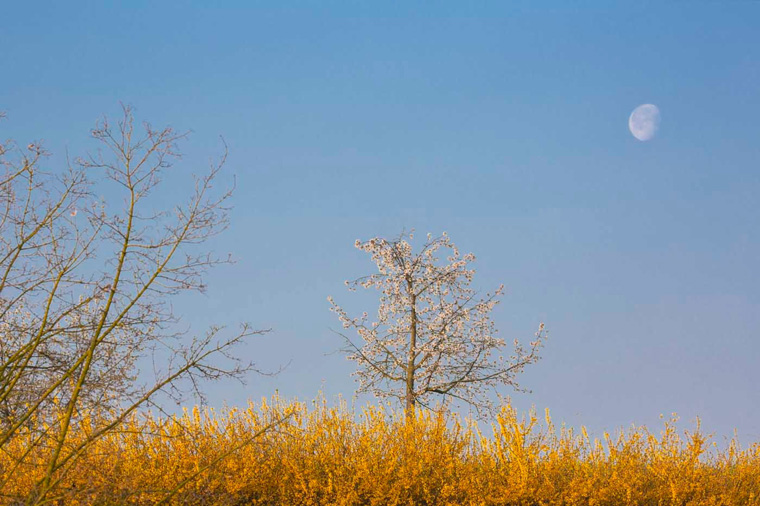 Like sandbanks in the moonlight: the forsythias lay their mantle over the embankment that separates the Upper Park from the Lower. Their yellow colour is direct, not so much in vogue today, but few other shrubs can give the same effect without asking for anything in return.  Soliloquies are not for them, especially in the vast open spaces of La Venaria. They look better when planted in large patches, rather like the meadowsweet growing nearby, which will come into flower about a month later. For the more sophisticated gardener, there are less common pale yellow varieties. But after all, a touch of homely cheer can make a garden even more attractive.
.Forsythia x intermedia (pdf)
---
zolla.29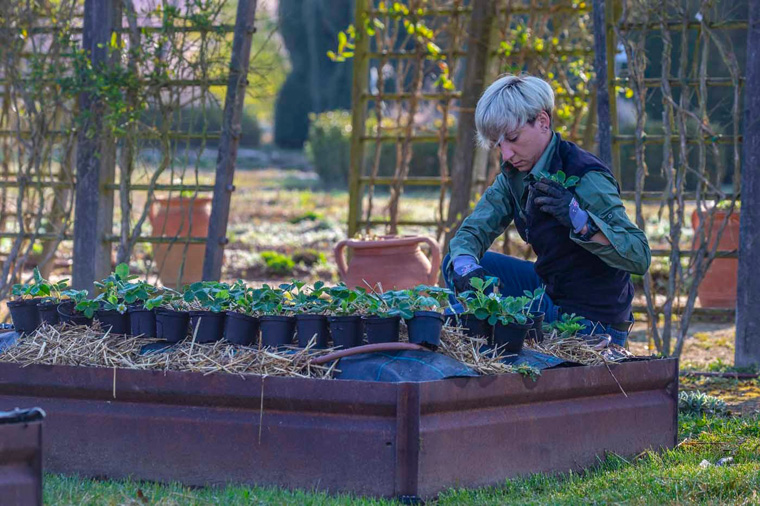 Pot by pot, the strawberries are repopulating the fruit beds. Although these plants are perennial, they need to be renewed every four to five years as they become fatigued and start to yield less. The soil is turned over and mulched, a little peat is added to give the right acidity, a weed membrane is laid down, and the plants are raised a little, to avoid rot. We have chosen the reflowering varieties, so the fragrant berries will continue to ripen throughout the summer. Plenty of sun, lots of water but not too much, periodic cutting-off of the stolons, and that's it. Ideal for the unpretentious garden, these plants are a supremely elegant understatement.
.Fragaria (pdf)
---
zolla.30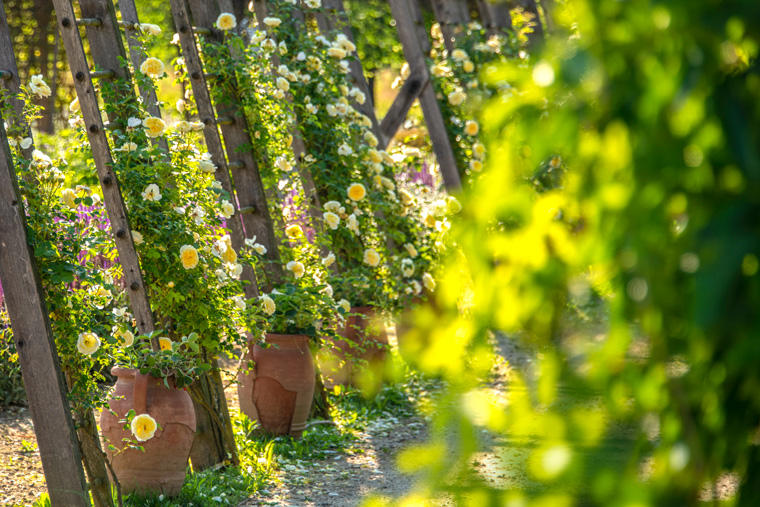 A triumph of roses is breaking the taboo: that bright yellow should always be viewed with suspicion in a garden. The variety chosen for our pergolas is deliberately bold, with extra-double blooms that burst out before fading gradually. The other variety in the design is a safe bet: a robust, healthy climbing plant with a beautiful scent, cultivated by the well-known English rose specialist David Austin. The undisputable merit of this variety is that it still produces flowers lower down, even if grown in a pot. Just to emphasise the idea, in our Gardens we also have another famous yellow rose, from the same rose breeder. The visitor won't find it too difficult to spot!
.Rosa "The Pilgrim" (pdf)
.Rosa "Graham Thomas" (pdf)
---
Zolle Reali project is also on  our Instagram profile.